Description
Welcome to Paradise… Arizona. They're out to get you. Or are they? It doesn't matter. You don't have time to think, only time to kill.
Take control of The Postal Dude in his infamous first outing! POSTAL is an isometric shooter filled to the brim with fast-paced explosive action. Blast, maim and fire-bomb your way through 17 unsuspecting locales, from a small town to a heavily guarded military complex. Don't get too crazy – this killing spree is anything but senseless. Out here, strategy is key and the locals are packin'
Blast your way through 16 levels, plus an ending level! Beginning from your humble Home, eliminate hostiles in areas from the Trailer Park to the City all the way to the Air Force Base. All of which play over beautiful hand-painted backgrounds.
Defend yourself with varied tools of mayhem. Take aim with the Scatter Gun! Clear out rooms with Grenades, Mines, and the almighty Napalm Launcher! Whip out Heatseeker Rockets for those big groups!
Defend yourself from Molotov-tossing Grenadiers, gun-toting Infantryman, rocket-firing Heavy-Weapons Experts (don't forget to duck!), and angry Ostriches! Non-stop, guns-blazing, adrenaline-fueled action!
Region Free
This region free game is playable on Dreamcast systems from around the world, with all video modes supported including PAL, NTSC, and even VGA – all running at a rock solid 60 fps.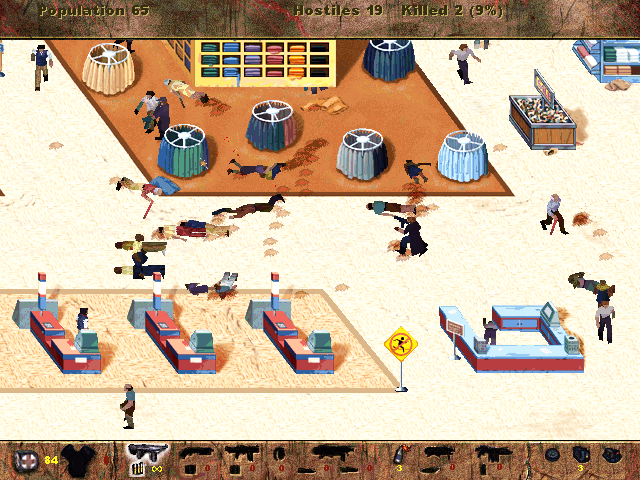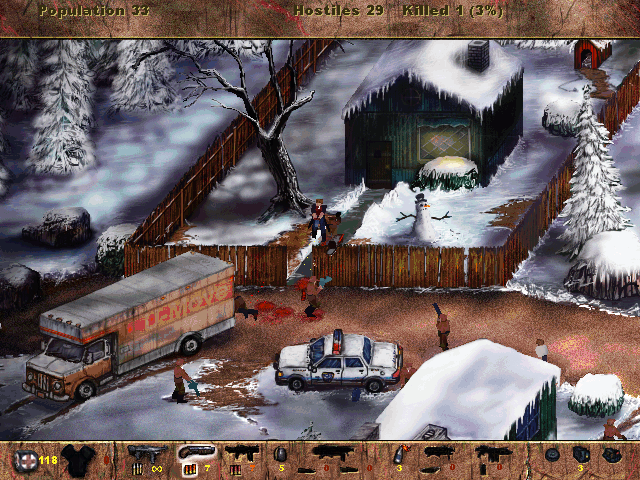 Dreamcast Features
Dreamcast version by Dan Redfield
640 x 480 resolution at 60 fps
Couch Co-Op mode with up to 4 players
Controller, Arcade Stick, and Twin Stick support
Supports PAL, NTSC, and VGA displays
High quality factory pressed physical media (CD-ROM)
Choose from 3 beautiful artwork styles – EU, JP, US
Region free