Arcade machines; perhaps our favourite institution of holidays by the beach front. Whether it's blasting at virtual targets or speeding around corners to cheesy rock music, it's hard to resist the charms of loud, bright machines demanding your £1 coins for a few minutes of fun. For the most part, arcade machines adhere to some fairly standard design philosophies- to the point that some machines are built specifically to be useable with whatever JAMMA boards are put inside it- but every now and again, a company decides to take a chance and do something quirky with one of their machines, either in the way it controls or the way it operates. Today, we're going to take a look at five of them.
MAZAN: Flash of the Blade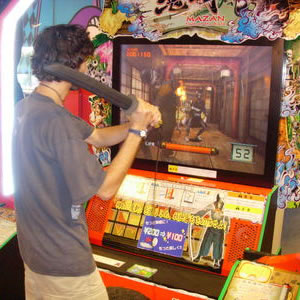 The light gun shooter is as much of a mainstay in the arcade scene as the Space Invader clone, having been there practically from the beginning. In spite of that, the conventions of the genre are rarely played around with- albeit because you hardly need to fix what's broken- but in the early 2000s Namco decided to swap hot lead for cold steal, bank heists for ancient Japan, all backed by a weird mix of trip hop and traditional Japanese folk music. MAZAN: Flash Of The Blade puts you in the role of a swordsman wielding a legendary blade, tasked with vanquishing the forces of hell because what else would you do on a Tuesday evening; supporting this is a large Sensor Arc that sits between the player and the screen, which reacts to the position and motion of a sword peripheral- you can slash, stab, and even guard fairly fluidly as a result. The price of the machine made it something of a rarity, and the eccentric control scheme and single-player only aspects possibly turned a few players off, but it remains firm fun in spite of that.
Street Fighter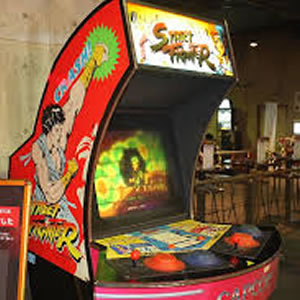 Street Fighter II will go down in history as one of the single most successful arcade games of all time, as well as carving an identity for itself as the fighting game that changed how fighting games were made. The initial title in the series, however, isn't quite so lucky, having continued to remain something of an obscurity in the years. To be fair, it's not hard to see why; it's not one of Capcom's better titles. The earliest versions of Street Fighter, however, aren't without merit; rather then sporting the standard six button layout we expect from fighters (although cabinets with such a control scheme were available), the "Deluxe" versions of Street Fighter two simply had two pressure sensitive pads, one for kicks and one for punches. Depending on how hard the pads were hit, the mechanics inside would register the hit as analog data mapped to three different attack strengths. A novel idea in theory, but it wasn't unusual for players to hurt their knuckles- or even outright break their wrists- with this control method. These versions of the machine were quickly phased out in favour of the standard six button variant.
Panic Park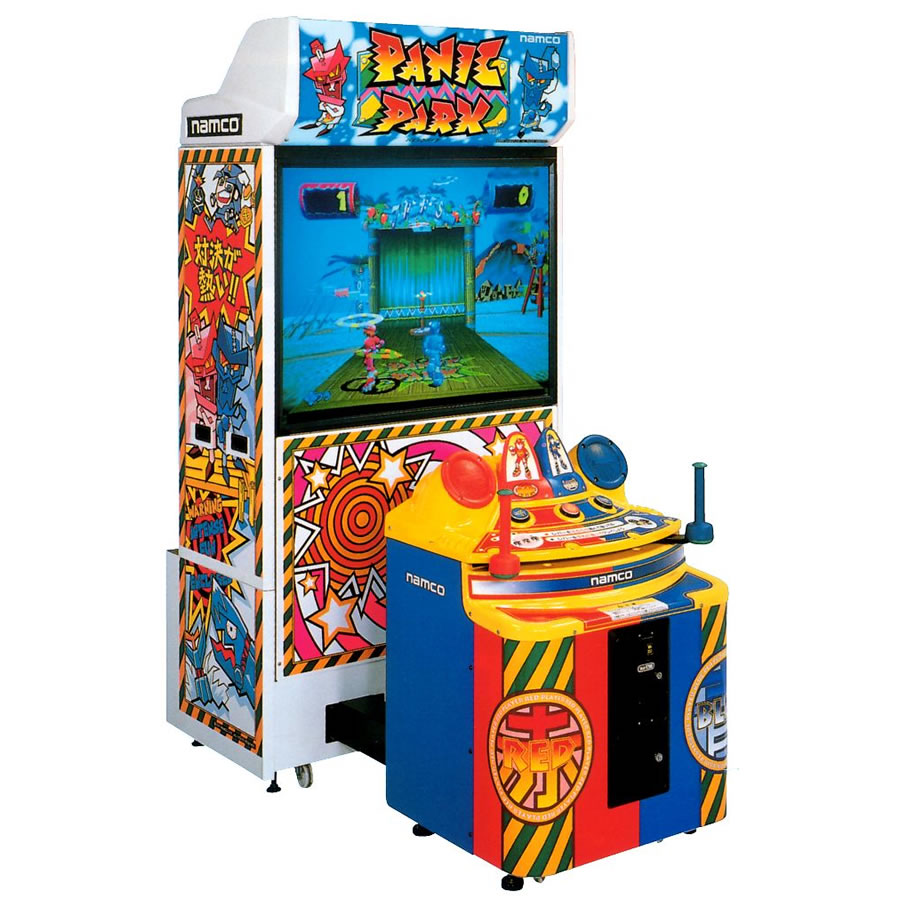 Minigame and Microgame compilations are typically associates with handhelds these days, but there was a time when you'd most often find them in the depths of your local arcade. Not satisfied with making quirky hooting gallery games like Point Blank, Namco set out to make a Minigame collection with an even wackier concept; Panic Park's main draw is that every single Minigame contained within is designed to work with it's control scheme, which consists solely of two handles that move left and right horizontally. On the exact same plane. Yes, in Panic Park, you're not only encouraged to physically push against the other player; the entire game is built around the concept. The result is a zany game with tons of charm and an eccentric control scheme, but that resulted in injury more often then not. In fact, a serious of shoulder injury lawsuits in some parts of America lead to numerous arcades outright banning the title, hampering distribution significantly in the west.
Gottlieb's Caveman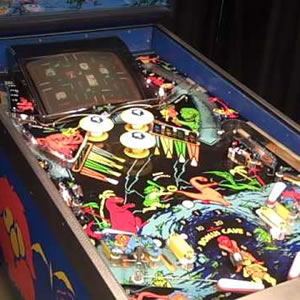 One of the single most unique machines ever put out by any company, Gottlieb's Caveman wasn't content with being "just" a pinball machine; it wanted a slice of the arcade game pie, too. The basic gist of the machine is that the action is split between the regular pinball playfield, and a built-in arcade game that runs off of a small monitor in the upper half of the playfield; hitting certain shots will lock the ball in place, and action will transfer to this screen (controlled by an additional joystick at the front of the machine). The arcade portion of the game is a variation on Pac Man, and actions within it directly impact the pinball portion; for example, Extra Balls are obtained by collecting an item pickup within the arcade portion of the title. The low manufacture number- even by Pinball standards- and relative cost of the machine made it something of a rarity, which is a shame.
Golly! Ghost!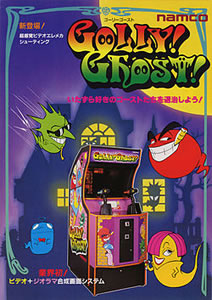 Ticket redemption machines were often very basic affairs- sometimes being outright animatronic attractions- so it was a neat find when you came across a video redemption machine. Namco, ever eager to prove themselves brilliant (if mad), decided to mix the two conventions together with Golly! Ghost!, one of their more obscure titles. A majority of the graphics displayed on screen- the enemies, gunfire, the splash screens- are the typical pixel graphics of the time, but the main background featured during gameplay- that of a suburban house- is actually a physical diorama. Complete with spring-loaded parts, even. The rest of the game's graphics are overlaid atop this diorama, and react in conjunction with it. It's an incredibly clever fusion of two mediums, and is incredibly effective in person should you be lucky enough to find one. An odd bit of trivia regarding the game; the western iteration of the machine dropped the ticket redemption factor, turning the title into a very short light gun game.